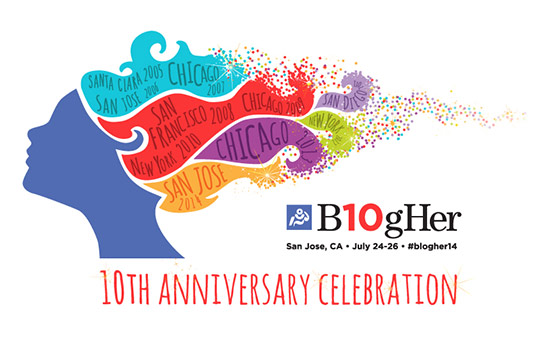 This weekend I had the immense pleasure of attending Blogher '14.
I can't even begin to decompress and describe the mind bomb that is this conference. 4,000 bloggers, most of them women, in scenic California, partying it up, networking, and honoring each others' voices.
I arrived in San Jose, CA on Thursday afternoon and was greeted by cupcakes (made out of lentils???) in a beautiful city. I ask you, does it get any better than that?
Well yes, it does. Because there are keynotes. AMAZING, funny, gorgeous, talented, and freaking cool keynotes!
Who was on the list?
Jenny Lawson – who you may know as The Bloggess, and author of the hilarious memoir, Let's Pretend This Never Happened. I met her, and we talked about funny female authors, and we both just finished reading Nora Ephron for the first time, and she signed my book "Knock Knock, Mofo". Isn't she great?
Tig Notaro – the comedian best known for her stand up show discussing the humor and heft of having breast cancer. You can download free tracks of her stand up at her site here, including clips from her famous show, Live.
Arianna Huffington – as in the founder of The Huffington Post! Best speech of the keynotes; she was inspiring, charming, funny, and flawless. And you know what? I met her too, and I spoke to her in Greek! *seriously might faint just thinking how awesome that was*
Kerry Washington – the actor and activist. She shared behind the scenes stories from her show, Scandal, as well as why civil rights and philanthropy are so important.
Why go to BlogHer?
BlogHer is drastically different than writers conferences, in my opinion. When you go to a writers conference, there's a pretty strict schedule of classes to attend. It's more about learning, networking, and deciding about indie vs. traditional publishing routes. It's awesome and definitely motivating, but different.
1. BlogHer is basically a giant party.
No I'm not kidding. That's how it feels. Everyone is smiling. Everyone wants to meet people. Everyone wants to know what you blog about and which classes you attended, and which yogurt you picked in the Yoplait #tasteoff challenge!
Shocker! We picked Yoplait.
That's me and the illustrious August McLaughlin
hanging out with a giant spoon. #GoodTimes
The Expo room with all the vendors is fun to bum around. And for those looking to write sponsored posts, the connections are yours for the making!
2. The Keynotes
See above. Then wipe the drool from your chin. I can't wait to see who's on board for next year's keynotes.
3. Voices of the Year Community Keynote
If you want to hear the voices that are groundbreaking in the blogosphere, attend the VOTY celebration. I was in awe of these women. And I want to share them all with you. Here are the 12 Voices of the Year that spoke at the conference. (All were phenomenal, but I starred the ones that spoke the most to me personally.)
*Parri Sontag ~ Her Royal Thighness ~ Leisure Suits, Braces, and Beanies: My Life as a Dodgeball Target
Kristin Vanderhey Shaw ~ Two Cannoli ~ More Than Words
Tammy Soong ~ World's Worst Moms ~ First Reason Not to Get a Tattoo: Your Mom Probably Has One
*A'driane Nieves ~ Butterfly Confessions ~ America's Not Here For Us
*Meredith Bland ~ Pile of Babies ~ 9 Awesome Things About Having a Physical Disability
*Janelle Hanchett ~ Renegade Mothering ~ We Don't Start With Needles in Our Arms
Phyllis Myung ~ The Napkin Hoarder ~ Sometimes I Still Wish I Was White
Ashley Garrett ~ Baddest Mother Ever ~ It's All One Life
*August McLaughlin ~ August McLaughlin's Blog ~ My Big Brindle Heart: A Love Story
*Grace Sandra ~ Grace Sandra's Blog ~ Letting The Stupid Little Ni**er Go
Jenna Hatfield ~ Stop, Drop, & Blog ~ The Bridge That is Any Bridge
Lisa Page Rosenberg ~ Smacksy ~ The View From Here
4. Networking and Friendships
Holy business cards, Batman!
There are 4,000 bloggers in one building and you get to hang out with them!!! I actually ran out of business cards.
Also, meet bloggers you follow online.
After using Twitter as a ginger beacon homing device, I met up with Aussa Lorens from Hacker. Ninja. Hooker. Spy.
You know who else I Twitter stalked?
Hege and Cotille from StitchFix! Photo coming soon as it's on Cotille's phone, but the girls will be sharing their photos from BlogHer and all the StitchFix fashionistas at the conference using the hashtag #StitchFixInTheWild.
*double squeeee* I even went out to dinner with them! And we leisured on Santana Row, San Jose's trendy hot spot for restaurants and clothing boutiques.
But best of all was meeting fellow blogger, longtime friend, and founder of #GirlBoner radio – August McLaughlin!
5. BlogHer is literally a giant party.
The end of the conference is a big, outdoor party. And Rev Run from Run DMC was the dj. #ILoveThe90s
Do you need any more reasons than that?
So, will I see you at BlogHer next year?