Ugh, adulting can be so exhausting. Do any of you ever wish you could flashback for, like, just a day to sometime in high school when you didn't have as much responsibiity?
(If you hated high school, pick a weekend instead of a school day, that's fine with me – this is a no judgment time travel zone.)
I mean, go back to a time where you didn't have to worry about, or really even know the meaning of words like: insurance, utilities, deductible, probiotics, fiber, and retinol creams. 
Being an adult carries a lot of duty, people depend on you, which in turn can cause a lot of stress. But then there are also the little things?
Please tell me I'm not alone here. 
9 Things That Make Me Anxious
1. Public Toilet Seats That are a Askew
How do I know whether it's going to stay put or slide around like a saucer on a snowbank?
2. Merging into Traffic More than Once
You know those roads where you first have to merge onto a road built for merging onto the road you actually want to be on, so you are in fact merging twice to get where you want to go, and everyone is driving like an extra in Fast and Furious 93?
3. Opening Presents in Front of People
There's too much pressure to make meaningful and unique comments over each gift. I'd rather open it privately and write you a beautiful thank you note.
4. Epic Stare Downs With Animals While Driving
I'm talking to you, squirrels. What is all this scampering into the road, then back to the sidewalk, then out into the road and freezing when my car comes upon you? I'm just on my way to the mall. I don't want to play Russian Roulette with you! And I am not slowing down my vehicle. Cross or don't cross, decide!
5. That Weird Science Myth About How We're Never More Than Three Feet Away From a Spider
I know it's a myth, but I also know they're out there. And they're plotting against us.
6. That Weird Science Fact About the Large Quantity of Insects We Eat in our Food, Namely Chocolate
I try to forget this every day.
7. Paintings That Look at You No Matter Where You Stand
Just cut it out, ok?!
8. Clowns.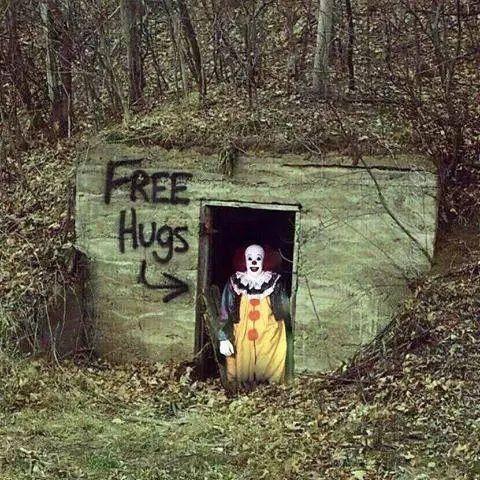 Oh yah, sure, be right there… Nope. 
9. Anytime I Have to Reach for a Dish on the Top Shelf
I'm convinced I will likely break 4 others on the way down.
Am I weird? Do you think about this stuff too? 
*****
Let's move on to better topics.
Here are 3 Things That Are Fun
1. This post about Halloween costume advice.
I wrote this back in 2011, but it's still full of great tips (and photos) to help you get creative this Halloween!
2. My improv show is this week!!!
I can't wait to tell Improvised Tales of Terror to you! Check out the radio ad I got to do voiceover work on. 🙂 Local friends, please come to the show!
3. October's #ScreamingScreening is in full swing!
While not as big, or serendipitous as #Keanuthon, we're still having movie nights every wednesday, and October is all about the scary movies! Join in, and if you like, tweet at me (@jesswitkins) and hashtag it #ScreamingScreening. What scary movies are you watching this season?
*****
What's everyone else up to this week?