Ugh, adulting can be so exhausting. Do any of you ever wish you could flashback for, like, just a day to sometime in high school when you didn't have as much responsibiity?
(If you hated high school, pick a weekend instead of a school day, that's fine with me – this is a no judgment time travel zone.)
I mean, go back to a time where you didn't have to worry about, or really even know the meaning of words like: insurance, utilities, deductible, probiotics, fiber, and retinol creams. 
Being an adult carries a lot of duty, people depend on you, which in turn can cause a lot of stress. But then there are also the little things?
Please tell me I'm not alone here. 
9 Things That Make Me Anxious
1. Public Toilet Seats That are a Askew
How do I know whether it's going to stay put or slide around like a saucer on a snowbank?
2. Merging into Traffic More than Once
You know those roads where you first have to merge onto a road built for merging onto the road you actually want to be on, so you are in fact merging twice to get where you want to go, and everyone is driving like an extra in Fast and Furious 93?
3. Opening Presents in Front of People
There's too much pressure to make meaningful and unique comments over each gift. I'd rather open it privately and write you a beautiful thank you note.
4. Epic Stare Downs With Animals While Driving
I'm talking to you, squirrels. What is all this scampering into the road, then back to the sidewalk, then out into the road and freezing when my car comes upon you? I'm just on my way to the mall. I don't want to play Russian Roulette with you! And I am not slowing down my vehicle. Cross or don't cross, decide!
5. That Weird Science Myth About How We're Never More Than Three Feet Away From a Spider
I know it's a myth, but I also know they're out there. And they're plotting against us.
6. That Weird Science Fact About the Large Quantity of Insects We Eat in our Food, Namely Chocolate
I try to forget this every day.
7. Paintings That Look at You No Matter Where You Stand
Just cut it out, ok?!
8. Clowns.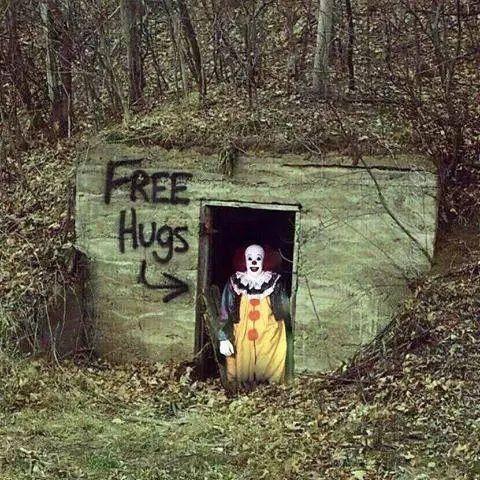 Oh yah, sure, be right there… Nope. 
9. Anytime I Have to Reach for a Dish on the Top Shelf
I'm convinced I will likely break 4 others on the way down.
Am I weird? Do you think about this stuff too? 
*****
Let's move on to better topics.
Here are 3 Things That Are Fun
1. This post about Halloween costume advice.
I wrote this back in 2011, but it's still full of great tips (and photos) to help you get creative this Halloween!
2. My improv show is this week!!!
I can't wait to tell Improvised Tales of Terror to you! Check out the radio ad I got to do voiceover work on. 🙂 Local friends, please come to the show!
3. October's #ScreamingScreening is in full swing!
While not as big, or serendipitous as #Keanuthon, we're still having movie nights every wednesday, and October is all about the scary movies! Join in, and if you like, tweet at me (@jesswitkins) and hashtag it #ScreamingScreening. What scary movies are you watching this season?
*****
What's everyone else up to this week? 
Posted in:
Humor
| Tagged:
adulthood
,
adulting
,
aging
,
anxiety
,
comedy
,
deal with it
,
don't sweat the small stuff
,
funny
,
happiness project
,
humor
,
Jess Witkins
,
responsibility
,
thirtying
I'm officially 30 years old.
I was the last grandchild born on both sides of my family, always the baby wherever we went. I must say, turning 30 feels surreal.
If I'm 30…are they all….DEAD?!!!
I'm at this weird juxtaposition where I was an adult, but not really because who's that much of an adult as a twentysomething, but now I'm really, really an adult. Because I'm 30. I'm 30.
One would hope that with each birthday you get a little bit wiser. So today I bring you…
Some Facts About Turning 30
1. You will have mixed feelings about this. 
With societal pressures being what they are, especially if you're a woman, turning 30 feels momentous. Because when you tell all your twentysomething friends that you're turning 30 they see 30 as something lightyears away which causes them to respond by saying things like "Seriously? You don't LOOK that old?" and "Oh, you're NOT going to go out to celebrate?" And that leads me to the following internal monologue:
I'm sorry, you must have misheard me. I'm turning 30, not 300. There's no reason to buy dentures and Bengay just yet. And furthermore, just because I'd prefer to stay in and celebrate with close friends rather than pub crawl my way through the occasion and wake up in last night's mascara does not make me alien, it makes me 30. I already have dark circles under my eyes and I'm not trying to define them. 
Then when I tell my thirtysomething friends I'm turning 30 they all get this reassuring look in their eyes like they're mentally patting my hand and inviting me to join a cult that takes ups crafts like scrapbooking and knitting. They say things like "Don't sweat it! Your 30's are your best years!" and "You'll be more confident in your 30's, enjoy it!" I think:
Yes, I've been looking forward to this growth stage. I will be a more indestructible me. I will takeover the world. … But then I remember I still don't know how to cook anything besides baked chicken, and how the last time I tried knitting I gave myself carpel tunnel. So how will I enjoy the greatest years of my life when I still feel like such an impostor? 
2. Phrases like "enjoy it while you can" and "you're face is going to freeze like that" take on new meanings.
I'd say somewhere between 28 and 29, eating whatever I wanted and not gaining a pound went away. Now I have a license to conceal and carry…my muffin top. As the youngest of four, I have fond memories of sibling scrabbles and epic battles of making grotesque faces at one another. Plenty of adults warned us to knock it off or else our "face was going to freeze like that." I somewhat regret making this face so much.
3. You won't have it all figured out yet, but you're better at it. 
Your 20's involve getting a leg up. You'll do crap jobs to work your way up a ladder you're not sure you want to climb, but that's ok. Say YES! It helps you figure out what it is you DO want to do. My 20's is when I figured out I did NOT want to do sales, but also where I learned I'm good at talking to people, being a leader, and that I wanted to get back into writing.
4. Remember all the cool girls who guided you along your way. Now you get to BE one. 
I wouldn't be who I am today without the love and support of some amazing girlfriends. Mentors along the way who let me be me. And there are a few older ones whose wise words and attention particularly meant something. I had coworkers who gave advice and let me vent when I just needed to get my frustration out. I have professors who've become friends and asked for my help or had me talk with their classes. And I've got four older sisters who all treat me with respect and love. Now, I love love love giving that back. I love being a mentor to the college students that I meet at work and help pump up their confidence to try new things and make messes and seek opportunities. I don't mind that when I attend conferences, I'm often sharing advice or experience instead of always getting it. I remember what it was like, and now I get to be the one that helps. That's a great feeling.
5. You've lived three decades on this earth! 
In case you didn't major in math*, I'll add it up for you, you've lived three whole decades on this earth!
*I didn't major in math, so I asked a friend. Yes, it is in fact three decades. 
You officially have experience with things. You are now old enough to make references to pop culture that young people won't understand!
What do you mean you've never heard of Popples?!!
And you have friends who've known you half your life or more!
Basically, 30's not so bad. So don't sweat it.
I plan to rock 30 like a boss. 
Cheers, everyone! 
Posted in:
Humor
| Tagged:
30s
,
aging
,
birthdays
,
funny
,
happiness project
,
humor
,
Jess Witkins
,
life lessons
,
middle age
,
thirtying
,
turning 30